Takeover Lacrosse was developed in 2017 by Michael McGuigan in order to provide youth boys and girls an opportunity to improve their lacrosse skills year-round by challenging themselves through camps, clinics, and training. Our mission is to grow the sport of lacrosse through our student athletes so that they may one day give back to their local community as players and coaches themselves.
Coach McGuigan is currently in his eleventh year as the Head Coach and College Recruiting Coordinator at Appoquinimink HS in Middletown, DE. At AHS he has overseen great success both on and off the field, including being the 2016 DIAA State Runner-Up, a 102-48 record, 8 Blue Hen Conference Championships, 25 All-State players, one All-American, 87 All Conference players, and 310 Jaguar Scholar Athletes.
Prior to Appoquinimink, Coach McGuigan began his coaching career and was part of Rippin Rope Lacrosse Club Founder Pete Duncan's staff that compiled a 21-9 record over two years and completed a complete program overhaul. While at CA, he was also a RRLC under 11 coach, camp counselor, and clinic instructor. Coach McGuigan is also very active in the MOT community, assisting the MOT Youth Lacrosse Club and their board of directors, volunteering at practices for U15, U13, U11 teams, and providing clinics with his AHS players. He also coaches basketball and strength and conditioning workouts for MOT Tigers Special Olympics. Coach McGuigan is originally from Philadelphia, Pennsylvania, but currently resides in Middletown, DE. He graduated from Middletown HS in 2005, Delaware Technical and Community College in 2009, where he was Team MVP and a NJCAA Distinguished Academic All American. He later started at Wesley College, where he was a Captain and graduated with a BA in elementary education in 2011. He recently completed his Masters in Sports Administration from Delaware State University and is currently a Health/PE teacher at Redding Middle School. In his spare time, he plays adult club ball for DogfishHead LC, Parrotheads LC, and Starboard LC.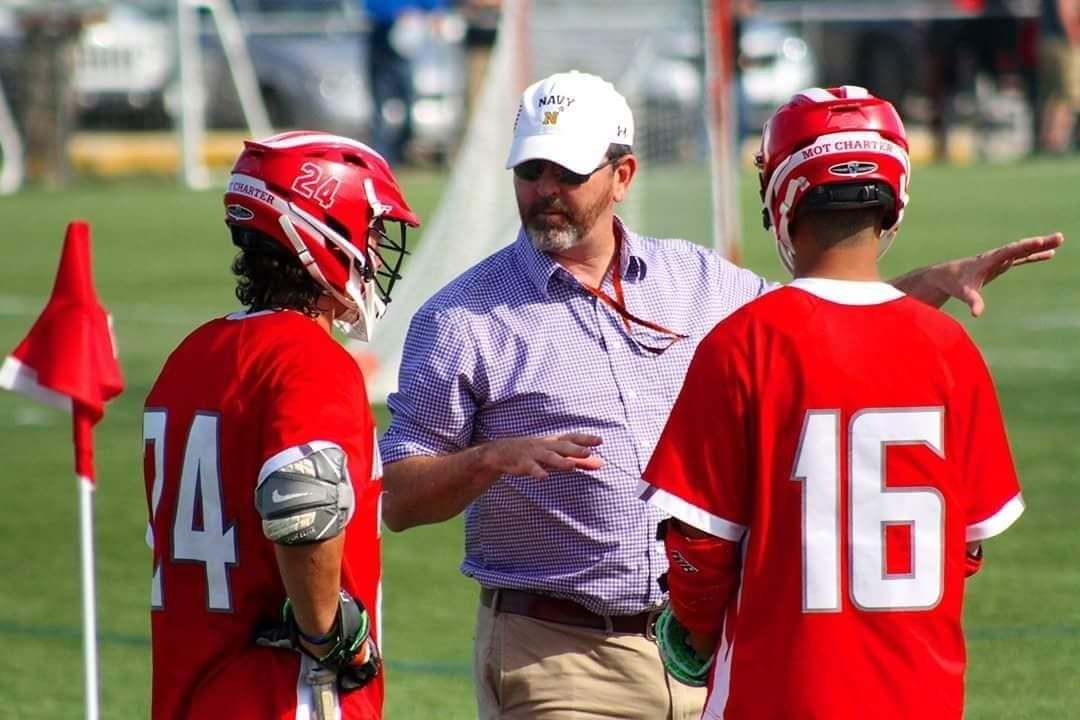 Chris Widener
Coach Widener began his playing days at Broadneck High School in Annapolis Maryland from 1987-1990. He later starred at Clemson University where he played club ball from 1990-1994. After his playing days were over, Coach Widener began his coaching career in 2008 at St. Andrews School where he was an Assistant Varsity Coach. He was then the Varsity Head Coach at Middletown High School from 2009-2011 and then founded and led the MOT Charter High School team as Varsity Head Coach from 2015-2018. Since 2019, Coach Widener has been a Varsity Assistant Coach at Appoquinimink HS where he is the defensive coordinator. Coach Widener is also heavily involved in the local lacrosse community as a U14 coach as well as a MOT Youth Lacrosse Board Member since 2013.
Coach Widener is currently a Math Teacher at William Penn HS and resides in Middletown, De with his wife Deann and his three children.
Conner Garrison
Connor played at Appoquinimink High School where he received All-Conference and All-State honors. He was the Blue Hen Conference POY his sophomore season and served as captain for the Jaguars his junior and senior seasons. He currently attends Washington College.
Garrison finished second on his team in goals (34) and points (45), while tallying 11 asssists and 30 groundballs his junior season. He has twice been placed on the Centennial Conference Academic Honor Roll.
Connor is pursuing a B.S. in Mathematics. He is minoring in Education and working toward a certification to teach at the secondary level. In addition to coaching, he officiates youth lacrosse during the summers.
Gabe Velazquez
Gabe played at Appoquinimink High School where he received Second Team All-Conference honors. He was a 3 year varsity player at Appoquinimink. He was also a 3x Blue Hen Conference champion and served as a captain for the Jaguars his senior season. He currently attends Washington College.
Velasquez finished with 7 goals and 6 assists with 105 ground balls leading the team and a 52% face off win percentage on his 2022-23 season. He has also been named Centennial Conference Defensive Player of the Week (3/28/23).
Gabe plans on pursuing a B.S in Business Management with a minor in marketing and entrepreneurship.
Nick Bowen
Nick attended Appoquinimink High School where he was a 3x All Conference Player, 3x All State Player and served as a Captain both his Junior and Senior Year. He finished his high school career with 8 Goals, 5 Assists, and 42 Caused Turnovers. He also graduated as a member of The National Honors Society.
Nick went on to be a 5-year starter, 2-year captain at DeSales University where he totaled 63 Caused Turnovers, 117 Ground Balls, 4 Assists and 1 Goal. He started and played in 64 out of a potential 68 games (missed 4 due to injury). Other accomplishments include helping his team win their first MAC Championship and graduating as a member of the Dean's List. He also participated in a multitude of different clubs and organizations on campus, including Colleges Against Cancer and The Ryan Leadership Institute.
Nick Vass
Nick attended Esperanza High School in Anaheim, CA from 2010-2013. He then went on to star at Cabrini University, where he was a captain and led Cabrini to the 2019 NCAA Division III National Championship. In 2019, Nick was an USILA All-America Honorable Mention, USILA Scholar All-American, IMLCA All-Mid-Atlantic Region Honorable Mention, and All-Atlantic East First Team. He started all 24 games, causing 21 turnovers and scooping 34 ground balls. He was also named to the Philadelphia Inquirer Academic All-Area Team.
Upon graduating with a degree in Management Information Systems, Nick currently works as a solutions consultant for J29 Inc.
Robbie Johnston
Robbie was a four-year letterwinner at Charter School of Wilmington. He started his career as an attackman leading the team in goals as a freshman. He switched over to midfield as a junior which was a true fit for his skill set as a two-way midfielder. He was a Team Captain who was named to the all-conference first team and all-state third team during his junior and senior seasons. Robbie finished his career with 137 goals and 64 assists.He also played for Silverbacks summer lacrosse team as a senior. Robbie was a multi-sport athlete, excelling as a four-year letterwinner in football as a wide receiver, running back, and safety. He received all-conference honorable mention on defense three times and was an all-conference second team selection as a wide receiver.
Robbie is a recent graduate of Widener University where he continued his playing career as a 3-year starting defensive midfielder. He contributed vastly between the lines racking up a total of 89 ground balls, 20 CTO, 13 goals, and 7 assists. Robbie was a team captain as a senior and helped Widener University appear in their conference title game as a junior.
Robbie majored in Biomedical Engineering and is currently finishing up a Master's in Biomedical Engineering while working as a Manufacturing Engineer for DSM Biomedical.He remains around the game of lacrosse as a youth and high school official as well as a member of the Parrotheads Lacrosse Club men's team.
Will Wojciechowski
Will starred at Pennington Prep where he was a NJ First Team All State, All Conference selection. He later played Division 1 lacrosse at the University of Delaware where he started at LSM from 2009-2014. At UD, he won Back to Back CAA Conference Championship titles. He's also a Two Time War at the Shore Champion A Division, on the Vail ShootOut All Star Team, ALL : Starboard Defensemen, OCMD : Dogfish Head Defensemen, London Knights AHS Box Defensemen, Northmen Box Defensemen, ParrotHeads Defensemen 1x Summer League Champion.
After finishing up at UD, Will is employed by JP Morgan Chase Global Equities Team and also works in commercial real estate development.
Will continues to play lacrosse year round, from men's leagues to club tournaments, including both box and field.
Zach Bowen
Zach played at Appoquinimink Highschool where he was a 4x All Conference Player and 3x All State Player and served as a captain both his Junior and Senior Year. He finished his high school career with 188 goals and 176 assists totaling 364 points.
He went on to be a 5-year starter, 2-year captain at DeSales University where he totaled 169 goals and 59 assists equaling 228 points thus breaking both the Scoring Record ,Goal record, and becoming 3rd in total assists. Other accomplishments include most assists in a game (7), most goals in a game (10), single season assist record (37), second in goals in a season (72) , and was named the MAC Tournament MVP in the 2018-2019 season when DeSales won there only MAC Championship in school history.
Ali Kern
Ali joined the Takeover team in 2018 as our girls camp and clinic coach. Ali is a local MOT product, starting off in the MOT youth program and graduating from Middletown HS in 2010. She went on to play lacrosse at Division III Christopher Newport University and then transferred to Division II Wilmington University ('15) where she earned a Bachelors in Middle Level Education (6-8) and multiple All-CACC academic and athletic honors. Upon graduating, Ali continued to stay involved in both field hockey and lacrosse at Archmere Academy ('15 – '17), among other coaching experiences. Today, Ali works for the Appoquinimink School District as a Project Lead the Way (PLTW) teacher at Everett Meredith Middle School. She is also the Head Girls Field Hockey and Lacrosse Coach at Odessa High School and a certified Delaware girls lacrosse official.
Mia Piscarik
Mia is a 2009 Middletown High School graduate where she played 3 years of both varsity field hockey and lacrosse. After graduating high school, she played both field hockey and lacrosse at Division II C.W. Post – Long Island University. Mia then transferred to West Chester University and graduated with a degree in Health and Physical Education K-12. Mia started her coaching career as the head field hockey coach at Hodgson Vo-Tech in 2012 while still in college. Upon graduating in 2013, Mia began her teaching career at Appoquinimink HS as a Health and Physical Education teacher. She was also named the head girls lacrosse coach at AHS from 2015-2017, where she led the team to their first ever state tournament appearance. During this time, she also was an assistant coach for Middletown HS's field hockey program (2 seasons) and Appoquinimink HS's field hockey program (1 season). From 2017 to 2020, Mia was the head field hockey coach at Sussex Tech HS, making an appearance in the Division I Field Hockey State Championship game. She was also the head girls lacrosse coach for 2 years at Sussex Tech. Currently, Mia has returned close to home and is teaching as well as coaching at Smyrna High School.
Rachel Reed
Rachel is a 2013 graduate of Kent County High School where she played field hockey and lacrosse for all four years. After attending KCHS, Rachel continued to pursue her lacrosse career at Division III Elizabethtown College ('17). She was one of four players to see action in all 15 games her freshman year, also starting ten times. Due to knee injuries the following year(s), Rachel was limited to few games; although still managed to record numerous draw controls, ground balls, shots, and goals each season. Alongside her athletic success, Rachel earned a Bachelors in Psychology, with a minor in Business and was a member of the National Society of Leadership and Success. Upon graduating, Rachel continued to stay involved in both field hockey and lacrosse in Queen Anne's County and with Lady Blue Crab lacrosse club, among other coaching experiences. While coaching, Rachel continued her educational career as well; earning a Master's Degree and a Specialist Certificate in School Psychology from Bowie State University. Today, Rachel works for the Capital School District as an Elementary School Psychologist. She is also the head lacrosse coach for the 2028 Lady Blue Crabs team and assistant lacrosse coach at Odessa High School.
Lydia Beckman
Lydia joins the Takeover team as another Middletown High School product. After attending MHS, Lydia continued to pursue her lacrosse career at Division III Neumann University ('20). While attending Neumann, Lydia earned multiple All- CSAC and All- AEC honors. Along with her athletic success, she made the IWLCA DIII Academic Honor Roll and was a member of the Chi Alpha Sigma Athlete Honor Society. Today, Lydia works as an Athletic Trainer/Physician Extender for Premier Orthopaedics, OA Division in Pennsylvania.
Taylor Lambeth
Taylor was a four year letter winner at Appoquinimink HS. While at AHS, Taylor led her team as a first team All-Conference attacker. Currently, Taylor is in her Junior year playing Division II lacrosse at Wilmington University. So far in her career, she has tallied 80 goals and 30 assists and is ranked 10th all-time in program history with 1.86 career goals per game. Along with lacrosse, Taylor majors in Psychology and is a member of the 2018 UCA Small Coed Division II National Champion Wilmington University cheerleading team.
Maura Smeader
Maura Smeader has been playing goalie since fifth grade-starting with the Wilmington Wings. She has also played goalie for the Victory, Green Turtle, and PA Express lacrosse clubs. Maura was a three-year starting goalie for Archmere Academy, where she lead her team to the playoffs each year, including the 2019 DIAA State Championship game. She was named First-team All-Conference and Honorable Mention All-State, while compiling over 300 saves in her three seasons. As a freshman at William Smith College, she compiled an 18-2 record as a starter with a 7.56 Goals Against Average. Maura was named Liberty League Defensive Performer of the Week twice and Rookie of the Week once. At the end of the season, she was named USA Lacrosse Magazine All-American honorable mention as well as All-Liberty League second team.